New support site available for the UnionActive system!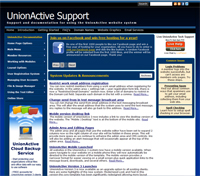 We have launched a new support website at http://support.unionactive.com. The support site features documentation, system update announcements, frequently asked questions, knowledgebase search, common problem solutions, live tech support chat (more on this below), and a lot of other valuable information to help you utilize the full power of your UnionActive website.
The support site link is available in the admin area > support tab of the website for easy access. Check this website frequently for system announcements and update information. As we add features and make changes to the system we will post the information on the home page of the support site.
The documentation menu will also continue to be updated with instructional information on using the UnionActive features and controls. Start off by checking out our great new section on using the website text editor.